Kelly Ripa Shared the Questions Mark Consuelos Asked While She Was In Labor — & We're Simultaneously Laughing and Giving Him the Side Eye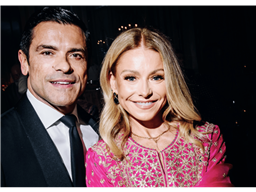 Kelly Ripa exposed her husband Mark Consuelos as "one of those dads" when she shared his funny-not-funny questions and comments from when she was in labor.
Actress Amanda Hirsch shared a graphic on her "notskinnybutnotfat" Instagram account on Sunday that asked, "What is one thing your husband did, said or brought to the hospital that really helped you through your birth experience?"
The Live with Kelly and Ryan host wasn't afraid to jump in the comments and roast the Riverdale star.
"Do you mind if I eat?" she wrote. "And 'I'm going to the batting cages since you're gonna be here a while'" — the question and comment that has us chuckling while yelling, "Come on, Consuelos!"
Ripa was not the only one who hilariously called out her husband. Many husbands complained about how uncomfortable the hospital chair was, gave instructions on how to push, asked their wife if they could feel the birth happening, or asked their wife not to scream.
One husband packed a bag and "brought ALL THONGS," and another forgot to read the car seat manual and asked his wife to Google the installation instructions. And that's just the start.
"It's okay if you poop, I sh*t my pants when I was 23," said one dad as his wife began to push.
"This is the hardest thing I've ever done,'" said another after blowing up the pillow for the birthing pool.
While some moms had really sweet stories to share, others had true face palm moments.
"For our first child, he was filling out the paperwork and when it asked for the father's full name, he said, 'Babe, what's your dads full name?' You're the father, babe. 🤦🏼‍♀️"
There was also this unbelievable fail:
"My husband peeked over the C-section curtain to announce 'It's a boy!!!!' The Doctor quickly retorted, 'Try again….' You had one job… 😂😂😂"
Ripa and Consuelos are now a long way away from the fateful day when he asked to have a snack and take a swing. The two are empty nesters with three children, Michael, 25, Lola, 21, and Joaquin, 19.
Ripa told PEOPLE this new phase of life has been "scary, thrilling, liberating, shocking … and quiet."
"There were moments when I was like, 'We're going to be that couple: Our third child goes to college and we get divorced because this is it,'" she said.
There was another time, though, when she and Consuelos went to the beach alone with cheese and a baguette (was that what he had wanted to eat in the delivery room?) for the first time since their honeymoon.
"These other parents were running around us with small kids," she said. "I realized I had never noticed the sunset because I was making sure our kids didn't run into the water when I wasn't looking. So I think for us, it was 'Oh, this next phase of our lives, this is kind of great.'"
These celeb parents have gotten very real about their kids growing up.

Source: Read Full Article