Brittany Mahomes Reveals the Adorable Accessory Sterling Wants Her Little Brother Bronze to 'Wear Everyday'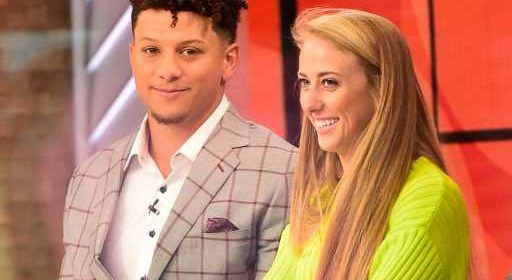 Patrick Mahomes and Brittany Mahomes have a knack for fashion, something both of their kids already seem to have! On Jan 28, Brittany shared an adorable snapshot of Bronze's look for the day with the caption, "Sterling wants him to wear these shoes every day 😂😂." See the photo from her Instagram story below:
In the new photo of Baby Bronze, we see him in his adorable brown and white look, including rocking the little accessory his big sissy wants him to wear: small brown loafers! He has a monogrammed brown bodysuit with his name sewn on the front, along with a white onesie and fluffy socks. It seems that Sterling isn't the only fashion guru in the making in the family!
From this adorable look, courtesy of his big sister's knack for accessories, to the matching Chief's colors look he rocked the other day, Bronze is already as fashionable as everyone in the fam!
As many know, lovebirds Brittany and Patrick have been together since high school, going long-distance throughout college, and have been so in love since! They married back on March 12, 2022, in a super lavish ceremony in Hawaii (a place Brittany has noted has sentimental meaning for the two), later honeymooning in St. Barts.
They share two children together named Sterling Skye, 1, and a newborn son named Patrick "Bronze" Lavon, who they welcomed on Nov 28, 2022.
Speaking on The Drive on Audacy's 610 Sports Radio (Kansas City), Patrick divulged how their daughter Sterling is actually doing with the new addition to the growing family. He said, "She wants to hold him, and take care of him, and everything like that. She wants to play all day, and we have to tell her to be gentle."
From Illusia to Zillion, here are a few of the most unique celebrity baby names.

Source: Read Full Article