How To Pick The Perfect Outfit For An Engagement Party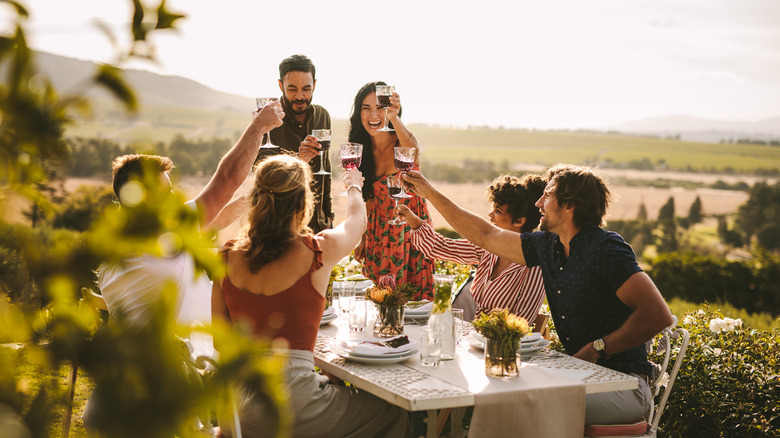 Jacob Lund/Shutterstock
By Paige McBride/Aug. 24, 2021 12:50 pm EDT
The rules of wedding season can get lost on all of us. Between the gifts, the proper etiquette at each of the events and finding outfits for everything in between, it can be a lot to remember. Apparently, the engagement party even has its own set of rules to follow around what to wear and what to avoid. By studying up and preparing ahead of time, your wedding season can be a breeze.
Of course, always check the invitation for clues around the type of dress code the hosts expect. Whether that's cocktail attire or black tie optional, use the invitation to get even more clear and find an outfit that's appropriate. "If there isn't a dress code listed on the invite, there are other cues you can use to gauge the level of formality," Grace Lee, the founder and CEO of Birdy Grey explains to Brides. By googling the venue, you can take a look at the level of dressiness to expect. "For example, if it is an afternoon garden party at someone's house, a floral day dress is a safe bet. If it is being hosted at a trendy hotel on a Saturday night, you can't go wrong with cocktail attire," Lee adds.
No matter what, however, there is always one hue to avoid: white. Martha Stewart explains that white is always reserved for the bride at every party leading up to the wedding. Furthermore, this rule includes other bridal colors like blush, champagne and other pale pinks.
A classic dress works for most engagement parties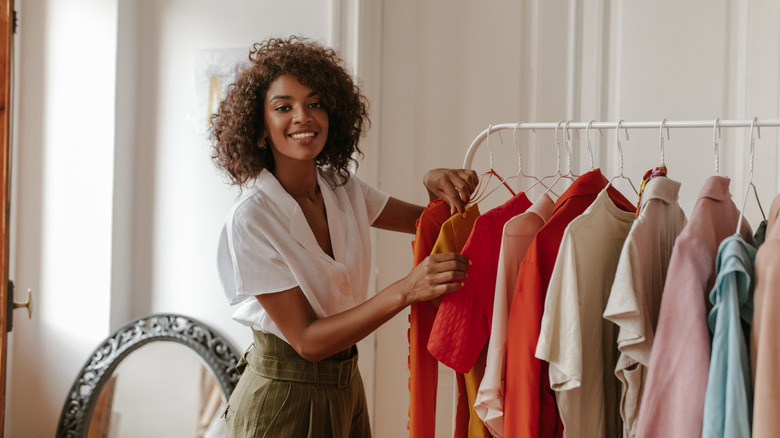 Depending on the level of formality, your favorite dress should do the trick. Dress it up with heels and jewelry or dress it down with relaxed footwear. However, Martha Stewart warns, just because the party takes place outside doesn't mean that it's a casual affair. "I've witnessed a black-tie event take place in the backyard of a beautiful home," Julie Sabatino, owner of the Stylish Bride notes. "Dressing appropriately is respectful. Honor the couple by looking nice — after all, it's an honor to be invited to share in on this special event."
The only exception for these rules are pool parties, the outlet contends. While you should obviously wear your suit, your outfit should still be put together. Find a cute cover-up and nice shoes for the occasion. "Men may find themselves wearing slacks and a short sleeve shirt while women wear a sundress and pretty hat to block the sun," etiquette expert Diane Gottsman offers.
Men's outfits are a little easier to plan out. Brides suggests opting for a crisp button-up shirt, nice jeans or pants and a sport coat depending on the occasion. As for shoes, just don't show up in sandals or your sneakers. Lastly, feel free to play with your personal style but avoid upstaging the happy couple! All eyes are supposed to be on them during these events — try to keep it that way.
Source: Read Full Article