Brittany Mahomes Shared the Sweetest Pictures of Sterling & Patrick Mahomes After Super Bowl Win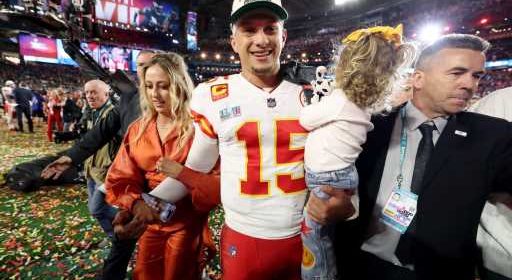 Patrick Mahomes was decorated with awards last night after leading the Chiefs to a victory over the Eagles in Super Bowl LVII — including scoring league MVP and Super Bowl MVP — but the best prize of the night? Kisses from his 1-year-old daughter Sterling Mahomes to celebrate the exciting night! His wife Brittany Mahomes shared heart-melting photos and videos after the game, and they are so sweet.
"LETS GOOOOOOOO!!! ❤️❤️" she wrote on Instagram alongside a video of the Chiefs' quarterback giving Sterling and Brittany kisses. The little girl looks so sleepy after a late night, but she is such a sweetheart!
Brittany also shared several photos of Patrick and Sterling. "Super Bowl CHAMPS❤️" she wrote on Instagram. In the first photo, Sterling has a pacifier in and is in the middle of Brittany and Patrick, as they both kiss her on the cheek. Next, Patrick proudly holds his little girl as red-and-yellow confetti fill the arena. She's wearing blue jeans with Chiefs' patches and yellow bows in her hair to show her support.
"Everything means a little more when you have kids ❤️❤️" one person commented.
Another wrote, "And he's just Daddy to her❤️."
Brittany and Patrick are also parents to Patrick "Bronze" Lavon Mahomes III, 2 months. Although he wasn't pictured, he was in Arizona with his family. The Kansas City Current co-owner opened up to USA TODAY on Feb. 11 about the "challenge" of traveling with two young children.
"The biggest challenge was packing all their stuff and making sure we had everything we needed for them for a week," she said. "Two kids is a lot of luggage and so stressful, making sure you don't forget anything. It's totally different from the last Super Bowl we went to, but wouldn't change it for the world. Way more responsibilities and thoughts going through my head."
She went on, "Making sure they are fed, taking their naps and adjusting to the time change! Having to plan ahead for things and always thinking ahead."
But despite how hard it was, she wouldn't want it any other way. "This is an amazing accomplishment for Patrick, and we knew we wanted both kids there to witness it and support their Dad!" Brittany told the outlet. "Overwhelming, maybe, but that's pretty normal for our life in general! He wants his kiddos with him as much as they can be!"
Before you go, check out these celebrity kiddos who love cheering on their NFL dads.

Source: Read Full Article