LeBron James' Family Shared a Heartfelt Video for the Record-Breaking Basketball Player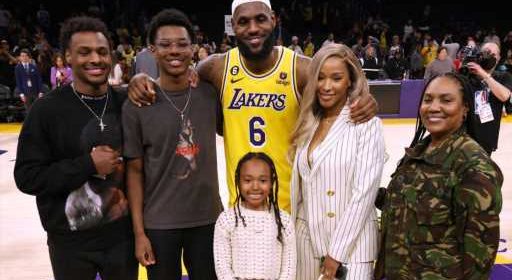 LeBron James made history on Tuesday, while his family cheered him on from the stands. The Lakers forward became the NBA's all-time leading scorer, breaking Kareem Abdul-Jabbar's record of 38,387 career points.
The moment the two-point jump shot swished through the net, the game against the Oklahoma City Thunder came to a celebratory stop. James waved his family — his mom, wife, and three kids Bronny, 18, Bryce, 15, and Zhuri, 8 — onto the court to celebrate the major accomplishment.
As the excitement settled down, James spoke to the crowd and thanked his family and loved ones.
"I wouldn't be here without all y'all help, all y'all passion, all y'all sacrifices."
Later that night, a touching video was released of James' family congratulating him on the milestone. While James might be the star on the court, Zhuri was the adorable little star of the video. Perhaps we shouldn't be surprised, the kidfluencer is already a YouTube sensation who lets her dad make appearances on her channel from time to time.
"Congratulations daddy for being the all-time scorer in the NBA," she said, stopping to give a kiss to the camera. "I love you."
As the well-deserved congratulations will no-doubt continue to pour in, James' wife encouraged him to take time to congratulate himself.
"You should celebrate yourself, you deserve all the flowers, you deserve all the respect, and I just want to tell you how proud of you I am," she said.
After the game, James told reporters that he, "just a kid from a small town in Ohio," had "a moment."
"I had a moment when it happened, and I embraced that moment," James said afterward. "Seeing my family and friends, the people that's been around me since I started this journey to the NBA, definitely very emotional right there."
In Aug. 2022, James shared a videos of him playing basketball with his sons and said there is "simply no better feeling" than doing what he loves with the people he loves. One might wonder that statement holds true after such a monumental night, but in post-game interviews, James still had his kids at the forefront.
"Basketball has given me a lot, has taken me all over the world, has inspired a lot of people, but for me, being a father is something way more dynamic and way more driven than the game," he said.
Before you go, check out these celebrity kiddos who love sports.

Source: Read Full Article