The Truth About Made-To-Fade Tattoos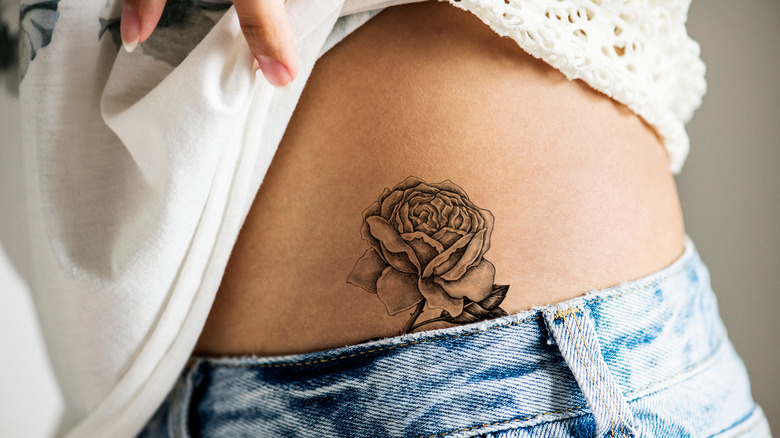 Tattoos have become more common and more acceptable in today's society, as more and more people are opting to get inked. Many claim that it has to do with celebrities and mainstream influencers flaunting ink on social media and putting it in the spotlight (via Byrdie). However, getting a tattoo is a serious commitment. Sometimes, people aren't 100% sure about what they want to have tattooed on their body forever. 
Due to this, some companies are pushing temporary tattoos, including ink you can customize (via Inkbox). The idea behind these kinds of products is that you can test out a tattoo before you commit to it forever. While the idea is pretty sweet, you'll have to apply the ink yourself. That is until one tattoo studio in Brooklyn found a way to change the tattoo game forever by introducing professional tattoos that last only one year, the first of its kind (via Forbes).
How made-to-fade tattoos work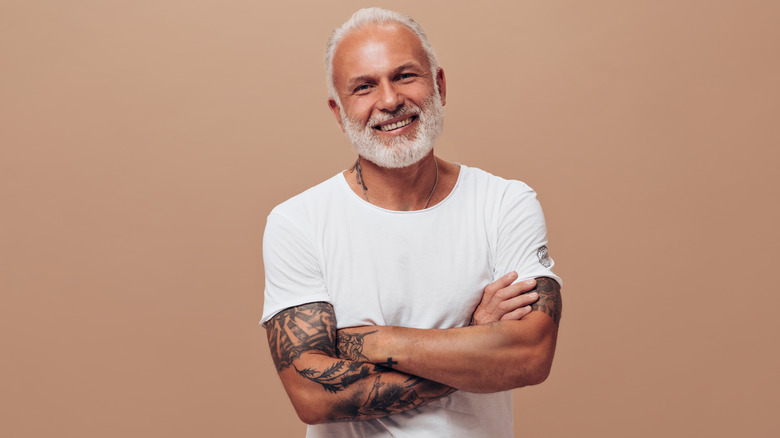 We know you're wondering — how do professional tattoos last only a year? According to the studio's website, the artists at Ephemeral Tattoo use FDA-approved "medical-grade, biodegradable solution" (via Ephemeral Tattoo). Essentially, this means that the ink used breaks down over time, naturally, disappearing from the body instead of staying on your skin forever. Think of how older tattoos sometimes tend to fade over time and require touch-ups. Made-to-fade tattoos are made of ink that eventually fades until "the particles become small enough to be removed by the body." 
The difference between the way Ephemeral works, in comparison to traditional studios, is that traditional ink "clumps together and is too large to be removed," according to  Josh Sakhai, Ephemeral co-founder (via Byrdie). Per Dazed Digital, this temporary solution is a game changer for the tattoo industry.
While the ink is different, the process is pretty much the same. Sakhai says that the ability of the body to break down the ink depends on where a client decides to get their tattoo. Additionally, the pain of getting the tattoo depends on placement, much like traditional tattoos (via Byrdie).
How to get a made-to-fade tattoo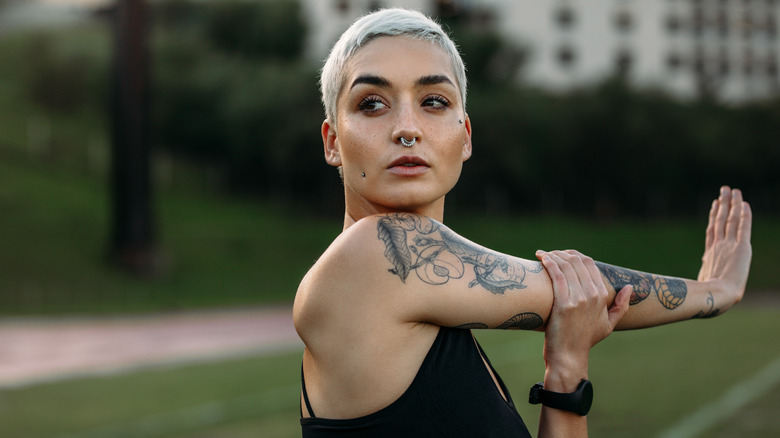 If you're interested in getting a made-to-fade tattoo because you're not ready to commit long-term, or you want to test out a design before going for the real deal, here's how it's done. To show interest in booking with Ephemeral, you'll first visit their website and leave a deposit, as they're booked months in advance. A deposit reserves you a spot for when an appointment opens up (via Byrdie).
Much like traditional studios, Ephemeral Tattoos allows clients to create their own designs. You'll speak with an artist and develop and design your ink, with the ability to make changes and modifications before you sit down in the chair. 
Smaller tattoos at the studio range from $175-$225, while bigger pieces with shading range from $350-$450, which is a bit different than traditional studios that typically charge by the hour. Additionally, the studio has a "no-tip" policy. "Our artists shared that some of the main challenges of their jobs were financial instability and lack of community. When we heard these things, we decided to make investments in our artist's experience," Sakhai says (via Byrdie).
If you're interested in trying out a made-to-fade tattoo, you can check out Ephemeral Tattoo.
Source: Read Full Article