Prince Archie Got a Very Special Birthday Gift That His Parents Say Has Brought Him 'Much Joy'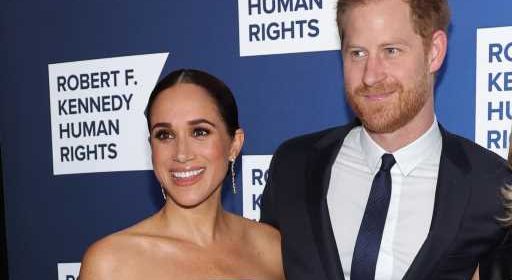 If you purchase an independently reviewed product or service through a link on our website, SheKnows may receive an affiliate commission.
Prince Archie turned 4 last month, and his birthday was marked by a "low-key" family affair with mom Meghan Markle and 1-year-old sister Princess Lilibet in California, while his dad Prince Harry attended King Charles' coronation on the same day in London. Now, a new detail about the big day has been revealed on social media, and it gives a clue into what makes this royal preschooler happy.
Last month, PEOPLE reported that the Mad Dogs & Englishmen Bike Shop in Montecito, California, shop owners Jennifer Blevins and her partner Martin decided to give Archie a special birthday gift (which they also posted about on Instagram).
https://www.instagram.com/p/Cr8zBVSPtA2/
A post shared by Mad Dogs & Englishmen (@maddogsbikeshop)
"He went and he got one of our little specialized kids' bikes — they're really nice little bikes — and he's like, 'This one's perfect, it's got training wheels,' " Blevins told the outlet. "And so he went and got some birthday balloons, and he got some flowers for Meghan and a birthday card, and he said, 'Okay, I'm gonna bike over and take it to their house.' "
When security emerged, Martin explained, "'I'm just a British business in town that wanted to give Archie a gift."
On June 6, the shop received a thank-you letter from the royal couple, and in it, Prince Archie's parents detailed how much the little boy has been enjoying his new gift.
"On behalf of Prince Harry and Meghan, the Duke and Duchess of Sussex, please accept their sincere thanks for the thoughtful gift you sent to Prince Archie for his fourth birthday," the note from The Office of The Duke and Duchess of Sussex read, which the shop owners posted on Instagram. "The bike has brought much joy, and is most appreciated by the family."
https://www.instagram.com/p/CtNGXUSvlIw/
A post shared by Mad Dogs & Englishmen (@maddogsbikeshop)
"They asked that I convey their gratitude at the lovely surprise," ended the note signed by a Harrison Colcord from the Office of Prince Harry and Meghan.
The bike shop shared the note along with this caption on Instagram: "We hope they don't mind us sharing this lovely thank you letter we received today! ❤️❤️❤️"
Blevins also opened up to PEOPLE about receiving a special courier with the letter. "A courier came by our little shop on Coast Village Road, and he dropped off that letter," she shared, adding, "It was so thoughtful because, you know, they took the time to write something personal and not just a generic thank you."
Archie's Gift Sparked a Movement

Image Credit: Toby Melville – Pool/Getty Images

Despite Prince Archie's appreciation for the special bike, some people weren't happy in the comments.

"That's too bad your bike could not have been donated to a child who was in need. Now that would be fantastic!" one person wrote.

So, the shop owners decided to do something about it. On June 10, they posted about a special bike giveaway on Instagram.

"We have been overjoyed to receive such sweet, warm messages from our post about how fun it was to deliver a bike to Archie for his birthday and receive a special thank you from his parents!" they wrote in the caption.

They went on, "Quite a few people have suggested we donate a bike to an underprivileged child based on us gifting a bike to a child of means. If you are an existing customer of ours or a friend of the shop, you are already aware of our philanthropic commitment to our local communities. We do what we can, when we can. Always have, always will." So they decided to do a giveaway for a bike to someone who demonstrates "financial need" and is a local to the community.

Little did they expect, this post blew up too.

In another update yesterday, the shop owners shared: "After launching the charitable bike giveaway yesterday, where we will be giving away a kid's bike to an underprivileged child, we started getting a lot of calls and emails from people from around the world asking how they can make a donation or support our small business. We have been blown away by the outpouring of kindness and generosity, and this positive momentum has been really inspiring!"

Because of this, they launched a GoFundMe campaign called "#Lovewins Bikes for Kids," which has raised over $8,000. "100 percent of all donations will be used to purchase new bikes for underprivileged children. Hoping we can take all of this attention and momentum and channel it into doing something impactful and good!" they wrote, adding that after exceeding their original goal on day one, they have already increased it again.

"Within 8 hours we have already raised over 5k," they wrote. "Thank you to everyone who has made a donation! This is just so wonderful and I can't wait to see how much we can raise! We will be fully transparent about how the funds are spent and who the bikes get donated to."

Prince Harry & Meghan Markle Love Supporting People in Need

Image Credit: Kevin Mazur/Getty Images Ms. Foundation for Women

Although Prince Harry and Markle haven't commented on this little bike shop's charity work inspired by their son, we can't help but think they would be proud. After all, they are both heavily involved in charity work.

Last August, Prince Harry's friend and colleague, Sentebale CEO Richard Miller, told E! News how fatherhood has changed Harry. While Harry has "always been passionate about children and young people," Miller said those feelings of Harry's have only grown stronger.

He said, "Now that he's a father, I guess it means even more to him. And it's something that he's always been dedicated to, and he has great relationship and connection with children, and it's something that he's motivated by."

Specialized Riprock Coaster 16

Image Credit: Specialized

If you want to buy Prince Archie's bike for your own 4-year-old, you can! The Specialized Riprock Coaster 16 in rainbow flake pink and turqouise is designed for little kids just learning how to ride a bike. It's made with a lightweight aluminum frame and wide tires to make it extra easy to maneuver for little ones.

Specialized Riprock Coaster 16$249.99, originally $300
Buy now
Source: Read Full Article