Kim Kardashian Is Out Here Doing the Most for Daughter North's Barbiecore Birthday Party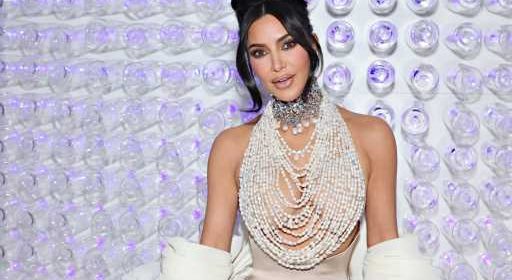 Even Barbie's Dreamhouse isn't as pink as North West's 10th birthday party. Kim Kardashian went all out for her eldest daughter's birthday bash this week, and it takes Barbiecore to a whole new level.
In videos posted to TikTok, The Kardashians star shared highlights of North's Barbie party, and we are in awe.
North and her best friend Eva beginning of birthday party ✨🎈
♬ Teenage Dream – Katy Perry
"North and her best friend Eva beginning of birthday party ✨🎈," Kardashian captioned one video, which started by showing pink Nike shoes, custom LEGO pieces, and hoodies as party favors. Then the video panned to the actual party, and it looked amazing. Each girl got a pink bed complete with pink canopy and lights for the sleepover party, and they were all dressed in matching pink pajama sets. There were Hello Kitty drinks, charcuterie boards, mocktails, and custom pillows for the event.
🎂
♬ original sound – Kim and North
In another video, several girls (including North's 10-year-old cousin Penelope Disick) gather around to sing to her and her friend Eva. North and Eva then blow the candles on a four-tier silver cake, which is out-of-this-world cool.
Party Bus

Image Credit: MEGA/GC Images

According to TMZ, Kardashian took North and her friends on a party bus to stay in a nice hotel in L.A. for the party. This is a huge 180 from the creepy camping party North had when she turned 9, featuring special effects makeup.

"She wanted to have a spooky, wilderness-themed birthday party," Kardashian explained on The Tonight Show Starring Jimmy Fallon. "So I took them out camping in the wilderness."

A Barbiecore party is much more glam!

World of Barbie

Image Credit: Dimitrios Kambouris/Getty Images

The Kardashians recently went to the World of Barbie exhibit in L.A. Khloe Kardashian shared a series of pictures on her Instagram Stories of her daughter True, 5, Kim's daughter Chicago, 5, Kylie Jenner's daughter Stormi, 5, and Rob Kardashian's daughter Dream, 6, per PEOPLE.

In the photos, everyone is dressed in pink for the ocassion (because of course!). They posed in front of life-sized Barbie boxes and Barbie surfboards and more.

North wasn't pictured at this trip, so it could have just been something fun for the younger girls to do since they weren't invited to North's Barbie birthday.

Birthday Queen

Image Credit: Kevork Djansezian/Getty Images

Kim Kardashian is the birthday queen. Nobody knows how to put on a bash like this family. And this year, it's all about the pink. In January, she threw a pink-themed party for her daughter Chicago, featuring tons of Hello Kitty decorations.

She also through her son Psalm an epic firefighter-themed party when he turned 4 in May, and she through her son Saint a football party when he turned 7 in December.
Source: Read Full Article