Kate Middleton Revealed Her Daily Exercise Routine & All Moms Can Relate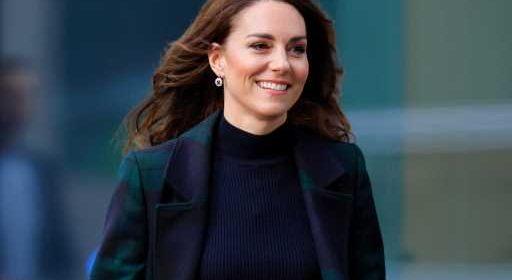 Her role as Princess of Wales aside, Kate Middleton is just like every mom. She has her ups and downs raising three Prince George, 9, Princess Charlotte, 7, and Prince Louis, 4, with husband Prince William (including dealing with all the tantrums!), and she has to schedule in time for herself in between mom duties. She recently shared how she manages her daily exercise routine, and it's so relatable.
During a reception for the England Wheelchair Rugby League team on Thursday, Princess Kate congratulated the team on their first World Cup triumph. She also shared a little about her own exercise routine. When one of the athletes asked if she gets to the gym, Middleton responded, per Daily Mirror, "It's running around after the children — I do it all, whenever I can squeeze in exercise I do, even jumping on the trampoline with my children before school."
As a fellow mom of three, this deeply resonates with me. Sometimes, lugging the kids out of bed, or running through the grocery store with them, or keeping them entertained and safe at home is the workout. It certainly causes my heart to race! Who has time for the gym when you can barely drag yourself to bed at the end of the night? (IYKYK!) If you can keep them happy and get your heart pumping at the same time on the trampoline, even better!
Another way Middleton gets some cardio in? Playing rugby with the kids. "We're always slightly competitive with each other," Princess Kate said at the event. "They all love sport and Louis is mad about rugby. They are at an age where they just love running around." You have to join them, or you won't be able to keep up!
Middleton does have her own athletic background to fall back on. She was the captain of the swim team in high school, played netball and hockey, and loves participating in royal athletic events. Still, keeping up with three energetic little ones wears her out, which makes me feel so much better! Princess Kate has to find creative ways to exercise in between wrangling kids — just like us.
One day our kids will be older, and we'll be able to hit the gym again, but until then, just embrace your trampoline workouts and grocery runs with your little ones. All moms are figuring this out together!
Before you go, check out these hilarious moments when Princess Charlotte proved she's the Queen of Sass.

Source: Read Full Article