Celebrity Kids Who Have Better Handbags Than We Do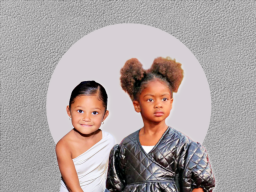 I was well into my 20s when I got my first handbag that didn't come from Walmart or Target. It was a black leather crossbody bag from Coach that cost somewhere in the neighborhood of $300, and when I came across it in the store, I literally hid it behind a stash of other bags in the hopes of nobody else buying it before I could save up enough money. (Spoiler alert: I managed to buy it, and carried it — year-round — for over a decade until the lining was tattered and the zipper was coming off. You better believe I was getting my money's worth!)
But when you're the child of a celebrity, there's no such thing as waiting until adulthood for your very own high quality handbag. And we're not talking just a department-store purse here, folks; we're talking coveted handbags from luxury designers, the kind that require being on a waiting list and paying a mortgage payment (or much, much more) to afford! For these tiny tots, glam knows no age limits, and they're out here rocking Birkins and Balenciagas before they hit double-digits. Because kids need a super-fancy means of toting around all their important things like pretty rocks and chewed-up gum and Happy Meal toys, amiright?!
Whatever goodies these posh preschoolers are hauling around in there, they sure do look adorable doing it — and every parent understands that compulsion to buy your child the best of everything. So we don't begrudge our favorite mini-fashionistas their designer duds; we're just a little jealous we're still saving up for one ourselves.
True Thompson

Image Credit: Kevin Mazur/Getty

Khloé Kardashian's daughter True Thompson, looked as cute as a (designer) button in an August 2022 post on her mom's Instagram. Captioned "On Wednesdays we wear pink," the adorable carousel of photos featured then-4-year-old True in head-to-toe pink, from her heart-shaped sunglasses to her Barbiecore Crocs.

But what really got people talking was the personalized mini Louis Vuitton bag she carried. The bag's non-customized version retails for $1,760, so we can only imagine the cost of True's bag, featuring her name painted in pink letters and a picture of presumably her favorite Sesame Street character, Abby Cadabby.

Sterling Mahomes

What do you get the 2-year-old who has everything? Why, a mini Chanel purse, of course! On the occasion of her second birthday, which occurred one week after dad Patrick Mahomes' Super Bowl win with the Kansas City Chiefs, little Sterling was gifted a quilted Chanel purse with a pale-pink lining by her dad and her mom Brittany Mahomes. What a lucky girl!

Kaavia James Union Wade

Speaking of 2-year-olds with great taste in designer accessories, Kaavia James – daughter of Gabrielle Union and Dwyane Wade — was also the recipient of a fancy bag before she hit preschool. Mom Gabrielle Union posted a cute TikTok video in which a then-2-year old Kaavia opens her first Valentino purse. Decidedly smitten with the gift, she wants to sleep with it. Who can blame her?!

Stormi Webster

Image Credit: Getty Images

When you're the daughter of a billionaire, it kinda stands to reason that all your stuff is going to be at a smidge higher price point than normal folks. For Stormi Webster, daughter of Kylie Jenner and Travis Scott, having a designer handbag is NBD … because she got her first one at just six months old. On a YouTube tour of Kylie's purse closet, the celeb mama revealed a mini Hermès Birkin bag that would belong to Stormi one day. (Like maybe when she could, you know, walk.) She also revealed that the golden apple doesn't fall far from the tree, holding up a Prada purse that her own mom, Kris Jenner, had gifted her when she was a baby.

Since then, Stormi has been spotted out and about with a variety of other designer handbags — including a mini Louis Vuitton.

Rani Rose Hudson Fujikawa

Image Credit: Handout/Getty Images

If you're traveling, it's always fun to do it in style — and Kate Hudson and Danny Fujikawa's daughter, Rani Rose, is definitely a mini-fashionista. In photos from a recent trip to New York City, 4-year-old Rani can be seen with a hot pink mini Valentino bag — to coordinate with her pink tank top, natch.

North West

Image Credit: Michael Kovac/Getty

Kardashian kid and prolific TikTok creator North West, daughter of Kim Kardashian and Kanye West, knows a thing or two about designer handbags. In a since-deleted TikTok, a then-8-year-old North gave fans a tour of her purse collection — which included, among many others, a white Hermès Birkin bag, several monogrammed Louis Vuitton bags, a Dior saddle bag, a micro Fendi, and a Balenciaga clutch.

Kulture Kiari Cephus

Image Credit: Axelle Bauer/Griffin/Getty

Kulture Cephus, daughter of Cardi B and Offset, was pictured on her mom's Instagram account at age 3 with a coveted Birkin bag. But not just any Birkin; this one was customized by Privé Porter, a Miami-based company whose CEO told Page Six that on a recent trip to Claire's — yes, the regular old mall jewelry store — "Kulture saw a small bag with a rainbow and started begging for it." She went on to explain that, "In typical Cardi way, she didn't get that bag, but she called me instead to try to replicate that rainbow on a Birkin for Kulture."

The reported cost for the specialty Birkin?? FORTY. EIGHT. THOUSAND. DOLLARS.

Blue Ivy Carter

When you go to an NBA All-Star game, you want a casual vibe, which is why — if you're Blue Ivy Carter, daughter of Beyoncé and Jay-Z — you carry a simple purse like the $1,820 Louis Vuitton Alma BB bag. Of course, she was only 6 years old when she was spotted with that particular handbag, so now that she's the ripe old age of 11, we can only surmise that she's expanded her collection exponentially since then.
Source: Read Full Article