Whoever Thought of These Glow-in-the-Dark Pacifiers is an Absolute Genius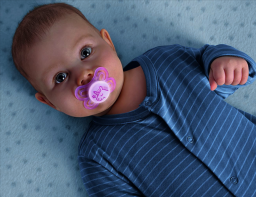 If you purchase an independently reviewed product or service through a link on our website, SheKnows may receive an affiliate commission.
If you've ever had a pacifier-loving baby, you know this to be true: there is barely a greater panic than losing the pacifier in the dark. Before you know it, you're crawling frantically on hands and knees fumbling around for it on the floor, and one or both of you are crying.
But parents everywhere (and their knees) can rejoice, because now there's a solution to this age-old nighttime dilemma. In a simple-but-brilliant move, MAM Baby has introduced a line of — wait for it — glow in the dark pacifiers.
Naturally, they're garnering major praise on Amazon – some have almost 6,000 5-star reviews, with many parents saying that these are the only pacifiers their baby will take. "It makes finding the paci at night so much easier. Whoever came up with that is a genius," raves one reviewer.
Others echo that sentiment: "My toddler is obsessed with his 'binkies'! I have to have so many of these around the house. The 3-pack is great! I can always find one. Plus the glow-in-the-dark one is so nice for the middle-of-the-night lost binky emergency."
"I LOVE the nighttime version of the MAM pacifiers. Seriously … if you're going to use a pacifier for your kids, these are the best because they have a very gentle 'glow' which helps them to find them in a dark room/crib at night," says another.
In the business of babies for over 45 years, MAM hasn't had a single product recall, which provides a priceless level of confidence. They're BPA/BPS-free, the nipple shape is designed to promote healthy oral development (and be accepted by breastfed babies too), and openings provide ample air circulation to baby's skin. But let's be honest — it's the ingenious glow in the dark design that make these as good for parents as they are for babies.
MAM Original Day & Night Baby Pacifier, 6-16 months
Made of MAM's signature "SkinSoft" material, this adorable gender-neutral 3-pack
ensures you always have a spare on hand.
MAM Perfect Night Baby Pacifier, 0-6 Months
For younger babies, this two-pack of glow in the dark pacifiers
featuring adorable woodland friends is the ideal size — plus, it comes with a self-sterilizing case: just add water and pop it into the microwave!
Also in MAM's Perfect Night pacifier line are these little cuties
(these are for age 0-6 months, but they're also available in 6+ month
and 16+ month sizes
as well).
MAM Air Night & Day Baby Pacifier for Sensitive Skin, 6-16 Months
If your baby has sensitive skin, give these glow in the dark pacifiers (with over 5,000 5-star ratings!) a whirl. This three-pack
has plenty of ventilation so air can circulate freely, minimizing the chances of irritation.
Source: Read Full Article