Tiffany Haddish Reveals She's Quietly Miscarried Multiple Times, Grieving In Silence Like So Many Others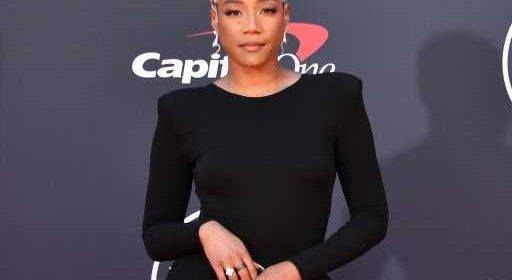 Tiffany Haddish's ability to make us laugh until our sides hurt time and time again is even more impressive considering her recent infertility revelation. The actress and comedian told The Washington Post she's miscarried a staggering eight pregnancies, all while barely skipping a beat and grieving in silence like so many others do after experiencing pregnancy loss.
The July 2023 profile began with Haddish on the phone with her OB/GYN office, telling the nurse she miscarried a week prior. When asked if she's doing okay, the Girls Trip star candidly answered, "Well, I'm going to be honest with you: This would be my eighth one. I've got a uterus shaped like a heart. It just won't keep anything in."
Before Haddish's disclosure, no one would have ever imagined one of comedy's most gut-busting acts was coping with such a physical and emotional toll over and over. Explaining her reasoning for keeping her numerous miscarriages private, the Haunted Mansion actress shared, "I don't want people saying, 'Are you okay? Are you all right?' Like a wounded animal, I just rather go in a cave by myself. Lick my wounds."
The Post reported that Haddish took parenting classes a year ago so she would be eligible to adopt, but she has yet to go through with the life-altering decision to begin a family on her own. Several things hold her back, including her tumultuous childhood spent in and out of foster homes, the abuse she experienced inflicted by her mother, and the career that keeps her so busy she barely has a moment to herself, let alone focus on a child.
After ultimately being diagnosed with endometriosis — an oftentimes extremely painful condition in which tissue grows outside of the uterus and acts like the tissue that lines the interior of the uterus, breaking down, bleeding, and becoming trapped with each period because it has no way to exit the body — Haddish chose to share her experience with the hope that it would help others in similar situations.
Many people who struggle with infertility and miscarriages open up about their stories for the very same reason, with celebrities including Meghan Markle and Chrissy Teigen being two of the most outspoken advocates who've made their experiences public in an effort to ensure others don't feel alone in or to blame for their loss.
With more and more prominent people coming out of the woodwork to share that they too have suffered a miscarriage, there's never been a prior point in which pregnancy loss was more normalized. With each story shared, miscarriage becomes less and less stigmatized, and that's something Haddish can take solace in as her own experience resonates with people around the globe.
These famous parents have been open about suffering miscarriages.

Source: Read Full Article