Simple Ways To Transform Your Bedroom Into A Peaceful Oasis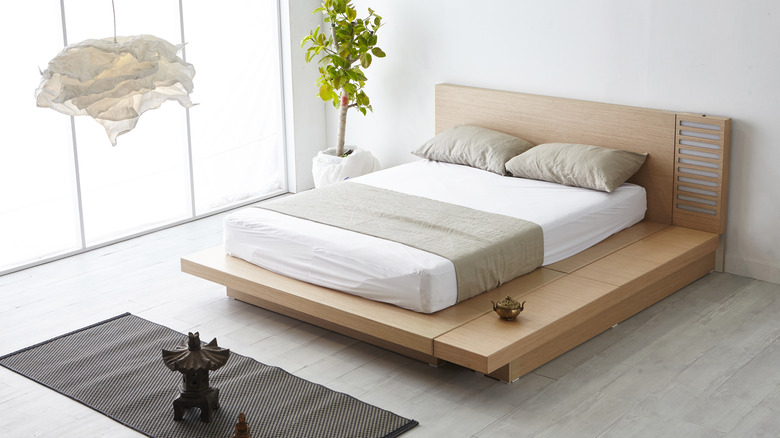 Your bedroom offers a space for you to relax and unwind. Even if the extra effort it takes to create a gorgeous space seems like too much, you'll change your tune once you walk into a peaceful room filled with things that make you feel safe. But, instead of hiring an interior designer, there are plenty of cost-effective, easy ways to update your space.
The first place to start when switching things up is with the colors of your room. According to My Domaine, soft colors in your bedroom will help you feel lighter and more at ease. Rather than choosing loud colors, think of a tranquil spa with its tonal hues. Beige, white, light grey and even a few blush tones will give your bedroom an airy feel that's still warm and thoughtful. Use similar colors on your accessories such as drapes and rugs to cultivate a soothing ambiance. 
If you're looking to add a pop of color, however, you can use pillows to do the trick. Since there's nothing that adds softness quite as quickly as a pile of pillows, use this space to exercise your creative side. Different colors, sizes and shapes can make your space your very own but still add a chic touch. The Spruce notes that varying textures of pillows and blankets can break up the monotony of soft colors and sheets that you may have chosen for the rest of your space as well.
Layer your bedding for a romantic feel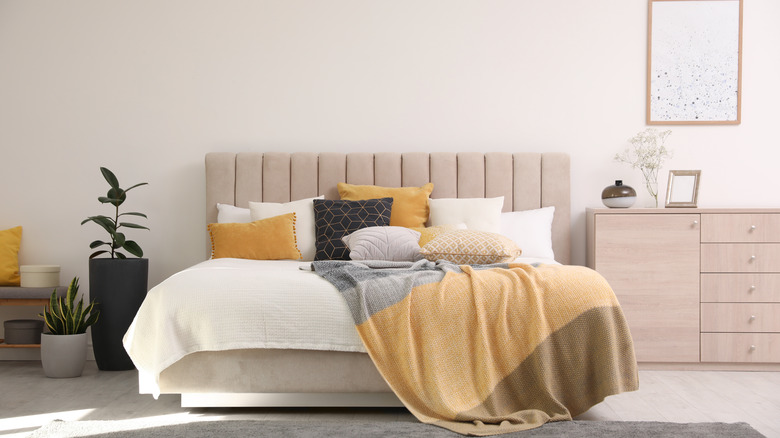 Of course, your bed is the centerpiece of the room. Particularly important in creating a soft, romantic space, a bed with layered fabrics and colors can create an inviting environment — fast. The Spruce explains that multiple layers of bedding, between sheets, quilts, blankets and comforters can add just as many layers of luxury. According to the outlet, you can do this by putting soft sheets on first, then topping with a thin blanket, layering on a quilt and then adding your comforter or duvet.
As for additional items such as decor, it's best to limit these to create your tranquil escape. The outlet explains that, while many styles of bedroom can accommodate lots of decorative items, they may not be best for creating a relaxed atmosphere. Limit your items to reduce clutter and count on your soft fabrics and colors to keep it warm and charming.
To up the charm, however, My Domaine suggests tracking down a few vintage pieces like a gold-framed mirror or antique frame. Contrasted with the soft accents throughout the space, a big statement piece with more adornment will be a welcome change in your room. Another way to spice things up is by contrasting colors from dark to light with these accents.
A big proponent of shifting things up in your room involves color. From dark to light, keeping things airy but grounded can help cultivate the soft but warm experience you're looking for.
Source: Read Full Article