Macklemore's 1-Year-Old Realizing His Dad Is Famous Is the Most Adorable TikTok You'll See Today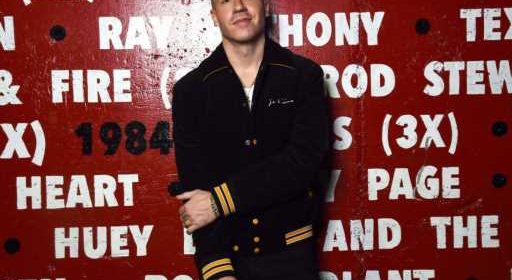 We know a lot of celebrities whose kids aren't interested in watching their parents' TV shows, movies, and performances, but they usually know that their parents are famous and have some understanding of what that means. Well, Macklemore's 1-year-old son was in for the shock of his life when he finally learned that his dad is a celebrity.
In a now-viral TikTok the rapper posted Wednesday, we see the moment it all clicked for little Hugo who Macklemore shares with wife Tricia Davis. He's standing in the family's living room in just a diaper and is perfectly still with his hands behind his back. His blue eyes are wide and his jaw is practically touching the floor as he watches his dad perform on TV. He even gasps as it all sinks in, and now we are staring at him the same way he is staring at his dad because how can Hugo be so cute?!
"Sometimes you gotta let your kids know who's cooking their pasta 😂," Macklemore captured the video.
It's hard to say just how long Hugo will be so stunned by (and seemingly impressed with) his dad's fame. In the background, one of Macklemore's daughters — he is dad to Sloane, 8 and Colette, 5 — sits on the couch looking like she couldn't care less about the situation.
"he's just wondering how long his pasta is going to take 😂," someone commented, to which Macklemore said, "😂 Chill."
"This is the BEST 😂," one follower wrote.
"You really said copy paste 🤣❤️," another said because ICYMI: the little guy looks exactly like his dad.
"That's cool! I showed my kids my clarinet solo from high school marching band. They were less impressed," someone said, making us crack up and garnering more than 10 thousand likes.
Macklemore shares more than just his epic public performances with his kids. He also shares an intimate look into his private life. The "Thrift Shop" singer made headlines in March when he shared that he brings his daughter Sloane to his Alcoholics Anonymous meetings.
"Sloane's been to meetings with me," he shared. "She asks me questions like, 'Daddy, how's your sober meetings going?' We talk about it, and I don't want to hide that because it's not something that I need to feel guilt or shame or secrecy around. The whole intention is to put it out into the open. Like I'm not a finished products, this is what I'm working on, these are my struggles."
Need pointers on how to talk about sex with your kids? Here's how some of our favorite celebs address "the talk" in their households.

Source: Read Full Article