How to Prepare for That First School Bus Ride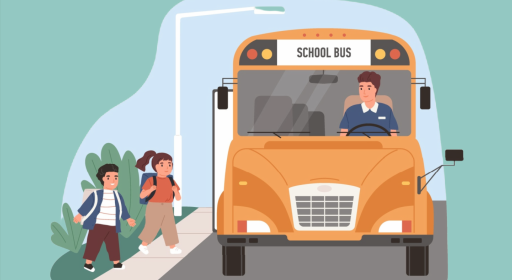 The backpack has been packed and the new school clothes laid out. The calendar has been taped to the cabinet, and the teacher's name has been memorized. But for the parents of kindergartners, the new school year brings a new and potentially scary reality: Sending your child off to school on a bus. Here's what you need to know to make that experience great for your kids and keep the wheels going round and round.
Seeing that giant yellow bus motor up the street is an exciting thing for a child. For a parent, it means kids really are growing up. The key to a successful sendoff — for both of you — is preparation. If you and your child are comfortable with what's going to happen and when, then you both will have a smooth start to their bus-riding years.
Teach the rules.
Face it: The school bus is a big moving vehicle with minimum adult supervision. Prepare your child so that he knows what to do on the first day and every day. "I recommend that parents go over the rules of the bus, such as always face forward, hands inside the bus at all times, and keep the noise level low so the driver can concentrate," says Kari Edmond of Hip and Little Baby Boutique.
Some districts may also plan a bus orientation or allow you to bring your child to see the bus ahead of time. "Call the school district to see if they offer an opportunity to 'tour' the buses. A dry run climbing up the big steps and testing out different seats on the bus can minimize anxiety on the big day," advises Amy McCready, founder of Positive Parenting Solutions, an online parenting education program.
Line up a buddy.
Chances are, you know your neighbors and their kids — and that's a good thing for you and your child. "Have a 'bus buddy' lined up ahead of time so your child will have a friend to sit with. Let her know that the bus driver may assign seats, but if not, she'll have her 'bus buddy' to keep her company," says McCready. This will help put your child at ease by erasing the worry of who she will sit with until she is comfortable riding the bus.
Kids and friendships: Elementary school years >>
Know the ins and outs.
You'll be there when your child gets on and off the bus, but what about the in-between time? It will put you and your child at ease to know the procedure for getting from the bus to the classroom and for getting on the bus at the end of the day. "Call the school and ask about dismissal procedures. Will the kindergarten teacher walk the kids out to the bus? Let her know as much about the process as possible to ease the 'what if I get on the wrong bus' anxiety," says McCready. (That should help with some mom anxiety, too.)
Read a book.
Books are a fantastic way to introduce children to concepts and feelings, and there's no shortage of adorable kids' books about riding the bus. Read one like It's Your First Day of School, Busy Bus!, where the bus itself is going through those first-day jitters, to help reassure your kid that it's okay to be nervous — and that everything will be fine.

It's Your First Day of School, Busy Bus!

$11.19

on Amazon.com

Buy now
Sign Up
Make sure you're on time.
Nothing ramps up that nervous feeling like the worry that you're going to miss the bus, especially on your first time riding it. Find out what time your child's bus comes, and try to be a few minutes early to avoid the harrowing feeling of a last-minute scramble.
Just like any other first, it might be a little bit nerve-racking — but reassure your child that before they know it, they'll be riding that bus like an old pro. And you'll feel better about it, too.
Source: Read Full Article