Combat the Dreaded 'Summer Slide' with the Summer Brain Quest Workbook Series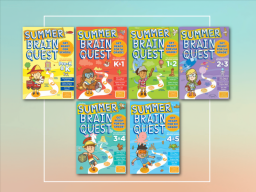 If you purchase an independently reviewed product or service through a link on our website, SheKnows may receive an affiliate commission.
Brace yourselves, parents, because summer break will be here faster than you can say, "I'm booooored!" And though summer break is definitely a time for scarfing popsicles and loafing on the couch, there can be too much of a good thing, and that brain-turning-to-mush phenomenon is aptly named "the summer slide."
The summer slide is a term for the learning loss that inevitably happens when kids' brains aren't engaged with school. A 2020 study of kids in third through fifth grades showed that, on average, students lose about 20% of their reading gains — and about 27% of their math gains — over the summertime months. "Things like decoding, letter knowledge, and word reading skills are very susceptible to decay without frequent practice, as are math facts like addition and subtraction," says James Kim, Ed.D., an assistant professor of education at Harvard University. Younger kids, children with learning disabilities, and kids from lower-income families are the most at risk.
But, quite understandably, kids aren't exactly lining up in excitement for summer instruction. After all, they do need a break too. So what's a parent to do when it comes to combatting the summer slide?
Enter the Summer Brain Quest workbooks, a series from America's #1 educational bestseller, Brain Quest. They're curriculum-based, Common Core-aligned, age-appropriate material that strikes the elusive balance between educational and fun. Developed by education professionals and vetted by a panel of award-winning teachers, the Summer Brain Quest workbooks are jam-packed with illustrations and interactive activities that your kiddos will actually enjoy.
Summer Brain Quest: Between Grades Pre-K & K
With over 3500 5-star reviews, this one is the perfect workbook for kids ages 3-6
. Kids begin with a map that guides them through all sorts of academic areas, from phonics and ABCs to counting, patterns, and seasons. Keep track of progress in a fun way with the sticker map in the back!
Summer Brain Quest: Between Grades 1 & 2
Kids ages 6-7 will love the activities in this grade 1 and 2 workbook
, which include not just reading and writing, but telling time, earth science, geography, and more!
Summer Brain Quest: Between Grades 2 & 3
This version of the workbook is an Amazon #1 bestseller
, with an astonishing 5-star average out of nearly 6000 reviews! Along with the basics of reading and writing, kids ages 7-8 will learn about place value, life cycles, writing opinions, and adjectives vs. adverbs — and, of course, a lot more.
Summer Brain Quest: Between Grades 3 & 4
Perfect for 8-9 year olds, this workbook for those between grades 3 and 4
includes timelines, word problems, parts of speech, and grade-level reading and writing to keep them right on target.
Summer Brain Quest: Between Grades 4 & 5
Decimals, fractions, earth systems, American history, and much more are made fun for kids ages 9-10 in this educational workbook
for kids between grades 4 and 5!
It's not always easy to keep kids' minds engaged and growing over summer break, but with the Summer Brain Quest series, you just might be surprised at how eager they are to learn.
Source: Read Full Article