Chrissy Teigen's Daughter Luna Guards Her Cupcakes Like It's Her Job in the Sweetest New Photos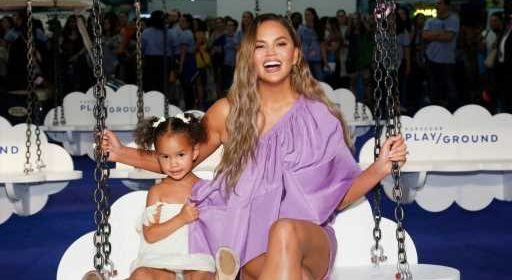 Having sweets in the house is stressful — especially when you have little siblings around. Imagine making cookies with your grandma and your brother steals the biggest one? Yeah, I'm still annoyed by that. Chrissy Teigen and John Legend's 7-year-old daughter Luna knows that if she wants to enjoy her cupcakes, she has to guard them with her life. Kids with lots of siblings can totally relate!
https://www.instagram.com/p/CrzZVdrpkze/
A post shared by chrissy teigen (@chrissyteigen)
The Cravings author shared photos of her three kids to Instagram yesterday, with the caption, "mine!!!" The first one shows Teigen kissing 3-month-old baby Esti. The second one shows an all-grown-up looking Miles, 4, in black acid washed fitted jeans and a black leather jacket. And the last one is of Luna, looking like a protective mama bear learning over a plate of cupcakes with her whole body.
And it's easy to see why! The cupcakes are covered in decadent chocolate, with sprinkles spelling out the names of "Mom," "Dad," "Luna," and "Miles" and a few extra. Her smile is giving a don't-mess-with-me vibe, and it's so cute.
People Couldn't Get Over How Cute Luna Is

Image Credit: Stefanie Keenan/Getty Images for DreamWorks Animation

One person commented on the photo, "Luna looks like a happy little spider guarding her cupcake treasure. ❤️" She is dressed in all black, with her legs and arms spread out to guard her cupcakes, so this is a pretty spot-on description!

"Luna is truly a mini baker❤️," another wrote.

Someone else commented, "Too precious for words💙💙💙."

Luna Is a Mini Chef

Image Credit: Kevin Mazur/Getty Images for The Recording Academy

This isn't the first time Luna has showed off her baking skills. In March 2023, Teigen shared a sweet video to Instagram revealing the cookbook Luna made in school.

"Luna had to write a how-to book in school! if this ain't my daughter!!!" she captioned the video. The title of the book? How to Make Ranch Dressing. So cute!

Chrissy Teigen & John Legend Are 'Lucky' to Have Luna

Image Credit: Paul Morigi/Getty Images

The "Nervous" singer revealed to Entertainment Tonight in Sept. 2022 that he and Teigen are "lucky" to have Luna as their firstborn.

"We're lucky she's our first child," he said, adding that Luna is "smart and mature and emotionally intelligent."

"She's very wise," he continued. "I feel like she just gets things and she doesn't have to explain things a lot. … You can just tell she can figure it out and move in the world and how to adjust to things very well."
Source: Read Full Article