Chef Ranveer Brar: I want my son to cook me a biryani before he's five!
Celebrity chef Ranveer Brar dishes up patience as the key ingredient to sound parenting.
By Shilpi Madan
He is one of India's most highly sought after culinary artistes, perfecting the palate both on and off the telly, on domestic and foreign turf, and wooing everyone through his handcrafted menus at his smashing restaurants. He believes food is a universal giver. Meet chef Ranveer Brar of Breakfast Xpress, The Great Indian Rasoi, Thank God It's Fryday, Health Bhi Taste Bhi, Season 4 of MasterChef India…. fame. He is just back from a 22-day sojourn and we nail him in an exclusive one-on-one to ferret pearls of wisdom on parenting his son, Ishaan, all of three-and-a-half years at the moment.
Excerpts from the conversation:
Your work makes you travel aplenty. What are the small, special ways in which you bond with Ishaan?
I bathe him and get him ready for school when I am around. When I am travelling, I facetime with him on the phone to stay connected. He tells me what's happening in his life, with school, in the playground…Also, when I'm in Mumbai, it's a ritual that we take an afternoon nap together and go to the park to play. Then it's just me and him. I love that.
You're Punjabi and confess to being brought up on panjiri. Does Ishaan share the same tastebuds?
(laughs) Honestly, he is a more cookie, rather than panjiri, kind of guy. We had lesser exposure to the outside world, our young ones are so much more clued in now with the telly, web…their food choices are different.
Also Read| Maria Goretti: The art of staying in control when the kids 'know everything'
What about the linguistic intake?
It's a rule in our home—we speak only in Punjabi. My parents, Pallavi (my wife; she is Maharashtrian, but has picked up the language beautifully) and I speak in Punjabi. So Ishaan understands Punjabi and converses a bit as well in the language too.
Is Ishaan excited to see you on the telly?
Not really. He has seen me on the telly since he was born, so he is quite blasé. No sense of false prestige here!
You are away for long spells sometimes, so what about the guilt of a working dad ? What would you change, if you could?
For short travel slabs, close by, Pallavi and Ishaan join me. For instance, if I'm shooting in Lonavla or any other location for a short duration, they come along. Else, we video chat. I can change it—and want to change—the frequency of my travel. I want to be around more for Ishaan.
He is growing up, airing opinions, and I love the excitement and sparkle in his eyes when I come back. Both of us love spending time with each other.
But you know, I have never built in him that sense of expectation of a gift, each time I return home. Sometimes, I don't get anything for him. But when I do, I never give it to him immediately on my return. It's always a few days later. I need to know that he loves me more than he looks forward to a gift (laughs). Also, I cannot compensate for my absence with a gift. That's just not me.
What's the best part about being a dad?
The fact that I get to revisit childhood—discover the magic of colours, look at things through his eyes and enjoy…and that I am able to contribute to the building of Ishaan's value system, his personality, his attitude towards life, his way of thinking… You know, I always wonder about which particular aspect of my personality can be attributed to which influence in my primary environment while I was growing up. I spent a lot of time with my grandfather and have imbibed many aspects of his personality. Ishaan is also lucky to have his grandparents staying with him. We are a close-knit bunch.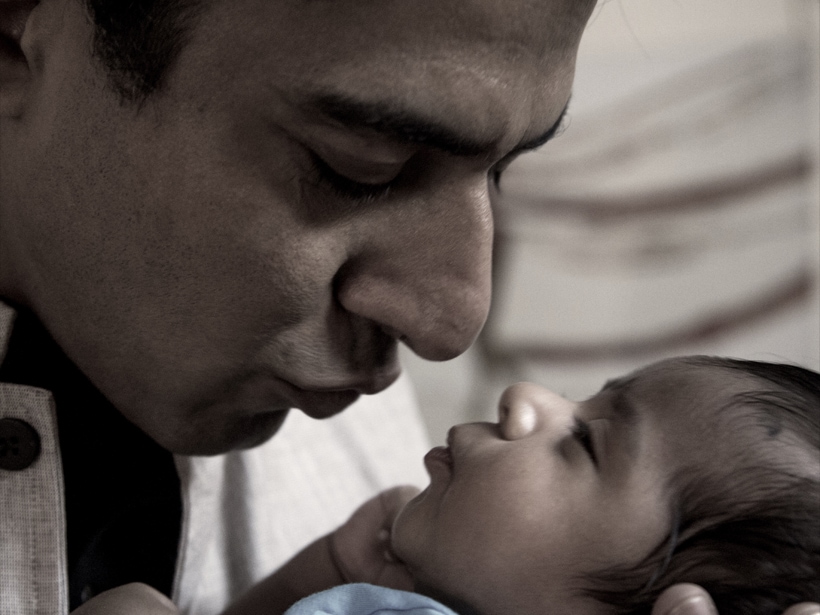 The way to a kid's heart is also through his tummy. How do you connive as a chef-dad?
(laughs loudly) Don't we all? Well, if Ishaan says, and I always ask him, he wants to eat chocolate and I want to give him nachni, then we make nachni kheer. You always have to work around things and make the most of it.
One nugget of wisdom?
Nothing succeeds like consistency and patience. I always remember what my parents told me, that children grow in and out of phases as they evolve as individuals. So don't feel embarrassed, or feel they are little villains if they are fighting with you. As parents, we need to be consistent in our speech, behaviour, actions. Be kind, be firm. Hang in there.
Okay, admit it. Do you want to create a little chef out of your son?
(Is silent for a few seconds, then laughs) I only want him to make a biryani for me before he turns five. That's all; then he can do whatever he wants in life!
Source: Read Full Article