Celebrity Moms Get Real About Their Home Births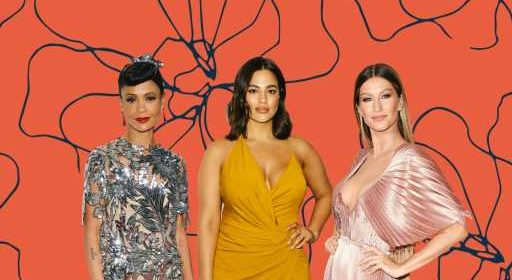 There are many options for giving birth — using an epidural, going unmedicated, hiring a doula or midwife, or delivering in a hospital, a birthing center, or at home — and the decision can be a daunting one.
But an increasing amount of people have been opting for home birth, especially since the start of the COVID-19 pandemic. According to the Centers for Disease Control and Prevention, the percentage of home births in the United States has spiked by 22 percent from 2019 (when it was 1.03 percent) to 2020 (1.26 percent), which is "the highest level since at least 1990," notes the organization.
Not so long ago, choosing to give birth at home seemed like a bizarre decision — a relic of the past for hippie earth mama types. But the method of delivery seems downright mainstream, thanks in part to famous folks sharing anecdotes from their incredible home births. The latest example: Ashley Graham, who in January 2022, welcomed twin boys with husband Justin Ervin from the comfort of home.
"Justin and I are so excited to share that our baby boys are here," Graham wrote on social media. "They were born early this morning at home and are happy and healthy. I'm taking some time to heal up and connect with my husband and three boys, but I truly can not wait to share more with you all."
While other celebs have opened up about their home birth experiences. "At that moment, I felt like I could conquer the world," Gisele Bündchen recalled in the 2011 documentary More Business of Being Born. "I felt like 'Give it to me. I can take it.' Like, I just felt so empowered, you know. I felt so ready. You can throw anything at me. And I can take it. I can do it. Just tell me what." And Pamela Anderson experienced a water birth at home with both of her children. "It amazes me that I chose natural childbirth. It wasn't the way I was raised," the Baywatch star told Bamboo Family magazine. "…I loved the idea of having a water birth. Natural and at home was the best way to go! I convinced my family that this was a far better choice than a hospital birth and they supported me."
However, home births are not for everyone, and women should consult a medical professional to asses their own risk factors as well as the proximity of a traditional hospital, should complications arise. And yes, giving birth in a hospital can be a beautiful experience too! But if you're considering a home birth, you'll find inspiration in these tales from famous mothers who had their babies in the comfort (or discomfort) of their own homes.
A version of this story was originally published in March 2020.
Source: Read Full Article