Brittany Mahomes Nails the 'Wild' Ride of Life With a 2-Year-Old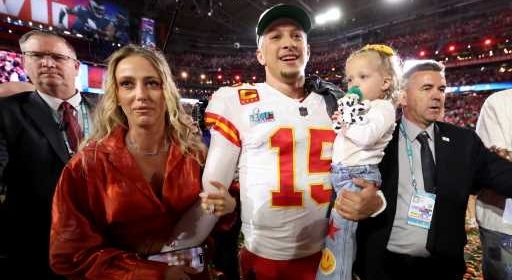 The Terrible Twos are in full force in the Mahomes household. Brittany Mahomes just gave an update about the "wild" ride of living with 2-year-old Sterling Mahomes, whom she shares with husband Patrick Mahomes, and toddler moms everywhere understand the struggle.
"No matter how many fits you throw a day … you're still the most perfect angel ever🤍" Brittany wrote on her Instagram Story. She also shared a picture of a frustrated-looking Sterling gazing off into the distance with a "Best Babe" shirt on. With her big blue eyes and blonde curly hair, she absolutely looks like an angel — but as all parents know, even the sweetest little things can throw some epic fits!
Brittany went on, "She hit 2 years old and decided to go wild 🤣😂."
Ah, yes. Those days are all too familiar. You finally get used to your sweet baby, who has learned to play and eat and maybe even sleep through the night — then all of a sudden, they are a full-on toddler. With opinions. And ideas. And so many demands, most of them unreasonable. How could this happen to your little sweetie?
Sterling turned two last month, which she celebrated with a "2 sweet" party with cute desserts and a donut birthday cake. But the little girl has also been getting into some major trouble, like when she went through Brittany's makeup vanity and absolutely destroyed her eyeshadow palette.
Earlier this month, the Kansas City Current co-owner revealed that her and Patrick took their daughter to a professional tennis match, which was "not the brightest idea 😂😂." In photos, Sterling looks bored and a little reckless while her parents look a little exhausted. Dealing with toddlers is definitely not easy!
Brittany and Patrick are also parents to son Bronze, 3 months. It won't be long before he can join his older sister in some trouble-making toddler shenanigans. At least Sterling will be out of the Terrible Twos by then!
Before you go, check out these celebrities parents who are living the two under two life.

Source: Read Full Article